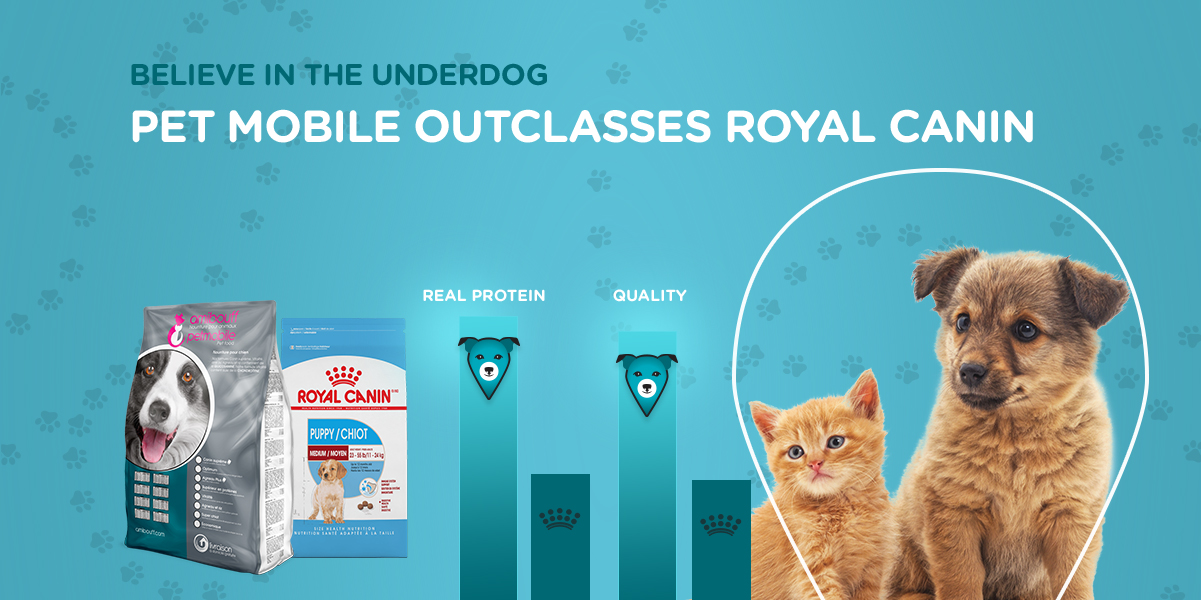 Obviously, each brand of pet food will claim to be "The Best". And yes, even us! With such a large variety of products, it can be very difficult for you to navigate. How to tell the difference between what is good and what is not? How to tell the difference between brands of cat and dog foods that are genuinely concerned about what's best for your pet and brands that just want to make more money?
This is why, we have created a classification chart of pet foods with detailed explanations on each aspect to take into consideration. This will allow you to assess where your current food is and also be better informed about what your pet eats.
Meat
Meat is at the heart of cats and dogs diet. No wonder it should be in the top 3 ingredients on your pet food list. WARNING !!! Avoid all animal by-products. These are what's left after removing the meat from the animal carcasses. It can therefore be organs, feathers, hooves, bones and other tissues that are not generally consumed by humans. Avoid by-products in favor of foods whose first ingredient is quality whole meat, or meat meal.
100% natural
No artificial colors, flavors or preservatives. It seems to us that this is rather obvious… Artificial colors, flavors and preservatives are not necessary as there are natural alternatives. In addition, several studies have shown that many chemicals are directly linked to health problems, such as cancer. There are also some chemicals that have not been studied enough to know that they are safe. Opting for 100% natural food is the best solution.
Balanced diet
A well-balanced diet prolongs the life quality and life expectancy of your animal. Did you know that cats are strongly advised not to eat dog food and vice versa? Cat food must contain a higher percentage of protein, which could cause obesity in dogs. In addition, dogs need plant-based carbohydrates and starch, which is found, for example, in rice or corn. Unfortunately, some major pet food manufacturer wanting to cut the production cost started using whole corn (with the plant) which has given this ingredient a bad reputation. While shell corn is a good source of carbohydrates, protein and fatty acids essential for your cat or dog's diet.
Unbalanced food can greatly harm your pet and cause illmesses like skin problems, liver or kidney disease, digestive, muscle or joint disorders, overweight, and even heart disease. There is a wide variety of foods specific to everyone's needs. Feeding your animal with the proper food and respecting its needs will provide essential nutrients but also will prevent certain health problems.
Quality versus Price
You should know that ideally, the price of a kibble will be linked to the quantity of quality meat. Unfortunately, several large companies no longer respect this association. They will use marketing firms to make you want to serve these beautiful kibbles that look like a great dish, or that present a beautiful image of the breed of your pet. Be careful not to get caught up in this game! You have to compare the prices and refer to the list of ingredients, categorically refusing any food that contains animal by-products.
Ingredients of Canadian origin
With the recent import alerts for pet food, many pet owners are concerned about the quality of the ingredients and which countries they come from. Many imports from China in particular have been reported in pet food recalls. Although fears of contamination can arise even in the cleanest manufacturing plants, they are less likely to occur when high standards of cleanliness and procedure are followed. The United States and Canada have high standards for food processing. Whenever possible, choose pet food brands that source raw materials from these regions.
Although not complete, this dog and cat food comparison chart can give you a good idea of ​​the nutritional status of common pet food brands. If your pet food is not on this list, take the time to review the ingredients, and place it in the table. This will allow you to choose the best for your friend. After all, your pet's food affects all aspects of their health and can even determine their lifespan and quality of life.
Do not hesitate to contact us if you have other questions, by e-mail or with the Messenger Chat Box, it will be our pleasure to advise you knowing your pet's needs.